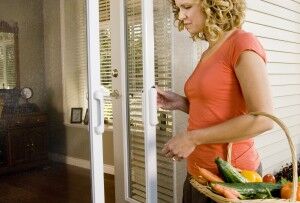 A Good Product Sells Itself – Mirage Screen Reviews
A recent Mirage retractable screen customer submitted a testimonial and we quote, "A good product sells itself!" We couldn't have said it better! We receive testimonials from Mirage retractable screens customers on a daily basis. If you are pondering a retractable window screen or screen door for your home, perhaps you will consider a Mirage retractable screen system after reading a few Mirage Screen reviews from our recent customers:
"It's only been 2 weeks but all I can say is WOW! We had a new stained glass installed on our door and our old screen door obstructed how nice it looked. We thought we would go the Mirage route and we would most likely just leave it closed all of the time so that the stained glass door would be seen at all times. What fools we were 😉 The breeze we get through the screen is ridiculous. The way I see it, we saved on the Mirage, as opposed to the competition, and we don't have to run the AC as much. Even more savings! The install guy was great and the screen was on in no time. I would give it more than 2 thumbs up but I only have two thumbs." Pickering, ON
"We had been trying for two years to find a solution to being able to have a screen door on our front door, which has a functional side light and framing is not in place for a regular screen door. As soon as we saw the display at Costco, and met the very friendly, informative service representative, we bought the [retractable screen] door right away. It has been great and we can finally get the fresh air into our home. We would definitely recommend Mirage Screen Doors to friends and family." Peterborough, ON
Still have questions about retractable window screens or retractable screen doors? For a free estimate and consultation for installing Mirage's quality retractable screen systems in your home, call our expert's toll-free at 1-855-488-7655 or contact your Local Retractable Screen Door Dealer online.
‍