Ideas for your Outdoor Living Space featuring Mirage Screen Systems: Patio, Garage, Lanai or Hot Tub–the possibilities are endless!
One of the biggest trends lately is being able to create usable and practical outdoor living spaces. Homeowners are often frustrated that they cannot use their outdoor space year-round due to temperature, insects or other factors. Thankfully, there are now a lot of innovative, efficient ways to transform your indoor and outdoor living spaces providing privacy, lighting, climate, UV and pest control. Depending on location, another important aspect to consider is corrosion resistance due to the elements. When researching your options, quality and warranty are of utmost importance as well as using a reputable brand and installer that will provide you with great, professional service and follow up if required. Mirage is proud to be at the forefront, with a large network of Authorized Dealers throughout North America. Read on to see how Mirage can help you design your perfect space!
Garage, Patio, Lanai & Gazebo – Horizon 5500
Whether it's a new build or an addition to your existing space, add an entirely new dimension to your outdoor living with the Mirage Horizon 5500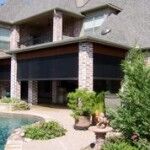 creating an indoor/outdoor experience like never before! Spanning up to 20 feet wide and 12 feet high, it can transform any covered space into an extension of your home, enhancing home functionality, provide natural ventilation, protection and comfort year round. These large retractable screens will not only optimize the use of your recreational space or garage by adding comfort but will also reduce costs of heating and cooling as they provide shade to your patio and interior rooms. These retractable screens appear and disappear at the simple push of a button or alternatively, with sun and wind sensors providing you with the ultimate in convenience and safety.
Easily convert your garage to a playroom or office
Create shade from the sun to protect items inside your home (ie. drapes, artwork, electronics)
Keep flying insects out. Easily installed on your porch, lanai, or gazebo
Add much needed privacy to your balcony, especially if living in a high rise or similar type development
Large Retractable Screens, Affordable Comfort – Horizon 2800

The Mirage Horizon 2800 retractable provides comfort, working as a sun, insect and shade screen to provide protection within your budget! The 2800 is economically designed to give you the option of a manual chain driven operator or a convenient electric motor. It is an entry level retractable screen for large openings, ideal for medium sized spaces spanning up to 12 feet wide and 9 feet high. These are perfect for: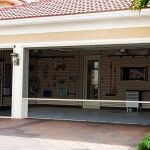 Lanais
Covered patio screen rooms
Hot tub enclosures
To learn more about Mirage's many different options or find a dealer near you, please visit miragescreensystems.com.
‍