Do you have a large opening door in your home? Is it a multi-panel sliding door or bi-fold door?
Are you struggling with not completely utilizing your doors?
We know insects are one of the biggest annoyances when it comes to opening your doors. What a shame it is that you feel you need to keep your beautiful doors closed because of this.
The Mirage 3500 Large Opening retractable screen door could be your solution to finally use your doors again!
The Large Opening Retractable Screen Door complements large opening door systems. These door systems include bi-fold and multi-panel doors, or any large opening in your home.
The 3500 fits openings up to 14ft wide and 28 ft with French Doors.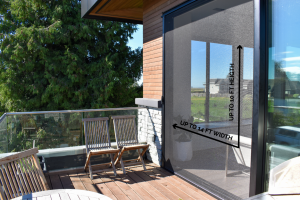 Create a breezy and comfortable home that keeps you sheltered from extreme weather and insects. Enjoy your view without obstruction.
Currently, the new door comes in four assorted colors to fit with your home. Midnight black, polar white, sandalwood, and bronze.
The mesh options are insect mesh and sun control. Insect mesh is more transparent but keeps insects out. Sun control is more opaque and keeps the strong UV rays out as well as insects.
Depending on your handle preference. There are three options for door handles. Our famous and easy release, Pivot Pro handle, standard handle, and recessed handle.
If you have a spot that has tight clearance, then you should opt for the recessed handle. This gives the door a sleek look and fits into any space.
The Mirage tradition lives on by making retractable screens that last and the Large Opening Retractable Screen Door continues this tradition. Our quality materials and components mean you can enjoy your screens for years to come.
See the video below for the 3500 Large Opening Retractable Screen Door in action.