Services EconoEnergy, Mirage & Costco lend a hand in helping support a fundraiser for a fantastic cause!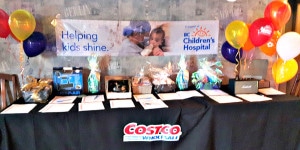 On April 29th & 30th, Costco Kelowna hosted a local fundraiser to raise money for BC Children's Hospital. The event was held at Wings Tap and Grill Kelowna, with the owners generously donating their establishment for the occasion. This was the first fundraiser of its kind hosted by Wings Tap & Grill. With a great turn-out and over $3,000.00 raised for BC Children's Hospital, they hope to make it an annual event. Volunteers included day shift Costco employees who came during the evening.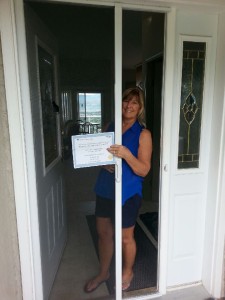 Mirage was pleased to help support this very worthwhile cause by providing a retractable screen with Michel of Services EconoEnergy, a Mirage Dealer located in Kelowna BC, donating his time for a free custom installation to the highest bidder! All proceeds from the silent auction went directly to BC Children's Hospital. The proud new owner of the installed Mirage retractable was Lynn, pictured here enjoying her screen. Thank you, Lynn, for your donation! Costco is dedicated to helping BC Children's Hospital each year by way of various fundraisers supported by Employees, Members & the Community. Since 1988, Costco has donated millions of dollars to assist with the ongoing treatment and care of BC children in need of these services.
Proudly supporting the community, learn more about Services EconoEnergy by visiting here.
‍