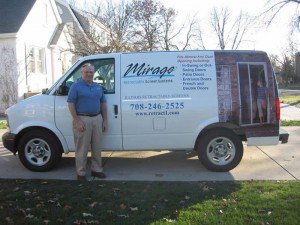 Become a Mirage Screen Dealer – Business Opportunity
As an organization, the success of Mirage Screen Systems is based on the success of our retractable screen dealer network. This is one of the reasons that Mirage Screens is always on the hunt for solid, dependable screen dealers looking to either add our product line to an existing home improvement business or start something new based solely on our retractable screen systems.
While we know the screen dealer network concept isn't unique to Mirage, we believe that what we are able to offer our retractable screen dealers:
A top-quality screen product with consumer brand-name recognition
A lifetime product warranty
More than Just Lip Service
There's a reason why Mirage Screen Systems has a loyal, committed group of screen dealers. The notion of support for our retractable screen dealers is something that we go beyond just talking about. We take dealer support very seriously, fully understanding the tools that you might need to grow your business. This is what drives us to offer the following:
Quality Retractable Screen Products We Care About – At Mirage, we are constantly striving to build the best retractable screen systems on the market. The years of focus on screen product quality have given us a unique retractable screen system for doors, windows and for large openings – a system that you will be confident in selling and installing.
Screen Product Orientation And Training – Our library of retractable screen installation videos lets you train yourself, as well as your staff, whenever you want.
Timely Access To Inventory – Mirage Screen Systems can turn around custom retractable screen orders quickly, saving your customer's time, and allowing you
to close deals sooner and move on to the next opportunity.
Easy Online Access – As a Mirage screen dealer you will have 24/7 access to our expansive online web store, to get screen marketing information and tools, plus order screen products, and much more.
Innovative Screen Business Marketing Tools – Support includes everything from screen product videos and our newly updated website, to a full line of printed materials about our retractable window screens and retractable screen doors – practical marketing materials for you to leave behind for potential customers.
It Takes All Kinds
So who are our Mirage retractable window and door screen dealers and what makes them so successful? There's no single answer to that question.
While some of our screen dealers are large, diversified companies that offer multiple home improvement products, we also have a healthy number of smaller owner/operators who are doing very well, focusing exclusively on our complete line of Mirage retractable screen doors, retractable window screens, and screens for large openings.
Ask Us About Becoming A Mirage Screens Dealer
For any of you who are home improvement specialists and might be curious about how having the opportunity to sell our complete line of Mirage retractable screen systems would affect your bottom line, we strongly encourage you to get in touch with us.
Please fill out this quick dealer inquiry and a Mirage Retractable Screens representative will be in touch with you shortly. We look forward to meeting you, working with you, and welcoming you as a qualified Mirage retractable screens dealer!
‍