See the WOW! Factor of Mirage Retractable Screen Doors
Retractable screens for windows and doors have been around for years and yet we still hear the 'WOW' factor from walk-in customers in our showroom, at trade shows, and through our extensive Canada and USA Dealership Network.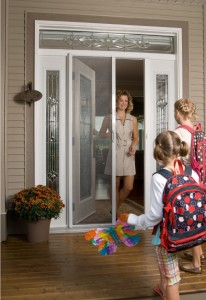 Retractable screens are popular home improvement products that offer some great benefits. Not only will a retractable screen door help keep your family healthy and comfortable, and your home attractive, but also you'll naturally cool your home simply by opening the doors, which can also help cut those rising energy bills in the process!
Are retractable screen doors right for your home?
Absolutely! Whether your home is a condo, single family home, apartment, or duplex, a retractable screen door system is perfect for your home and can be customized to fit your door specifications.
Many homes designed today feature French doors or other out-swing doorways in front entrance ways. Rightfully so, homeowners rarely want to obscure these beautiful entryways with conventional stationary screen doors, even if it means having to keep doors closed in order to keep insects out. A Mirage retractable screen door, which can be stored in its casing when not in use and only needs to be out when you want a breeze, solves this dilemma.
Add to that the convenience factor, especially important to all of us with busy lifestyles. You'll never have to contend with having to open a stationary screen door when your arms are full of groceries and the like.
Retractable screen doors are exactly what you want in a home improvement – convenience, aesthetic improvements, and practicality—without busting budgets.
Mirage Screen Installation Video
There are four (4) basic installation applications for the retractable screen door systems:
Single Entry Door
Double French Door
Patio Slider
Window
Each of these retractable screen mounting applications are covered in this Mirage Screens demonstration video.
Not all retractable screens in the marketplace are alike.
It's always best to do side-by-side comparisons of various screen product offerings. So if or when you are in the market for a retractable screen for your home doors or windows, we invite you to contact your local Mirage Screens Dealer and take the Mirage retractable screen system for a test drive.
‍