Which Retractable Screen is the Right One for You?
Finding the right retractable screen can't be that hard right? If you know what to look for in a quality retractable screen product, your search may not be as daunting as it might seem despite the number of choices out in the market these days.
What Makes a Great Retractable Screen?
These are the fundamental details to look out for when choosing retractable screen doors or window screens:
High-quality screen door powder coating
Wide range of colors and available custom color matching
High-quality screen plastic material
Deep screen tracks to reduce mesh blow-out
High-quality internal parts
Magnet closure that doesn't deteriorate and keeps the screen closed
Trustworthy retractable screens dealer
Screens manufactured in North America
A credible retractable screens manufacturer that has been around for many years
Overall reliability and warranty to protect your screen purchase
High-Quality Screen Products that Work for Years – Guaranteed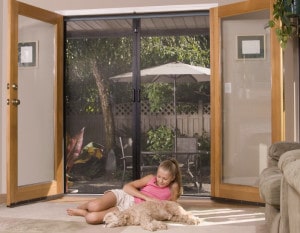 Regardless of whether you want retractable screens for a window, door or large opening around your home, you will want a high-quality screen product that is going to look great for years to come and works well so that you enjoy using it.
You will want a screen that retracts smoothly and is easy to use. That's where the Mirage reputation for using high-quality screen components pays off. Mirage screen guides are made from a durable, space-age plastic material, and the internal mechanisms (spring, roller tube, etc.) are of the best quality and have been tested to work together to provide you with effortless use of the retractable screen for years to come.
There are a number of different paint coatings used in the screen industry that vary in degree of quality. Mirage uses a powder coating and regulated prep and application procedure which results in a durable, long-lasting, and environmentally friendly screen product. The sill adapters, colors and screen mesh options can also be designed to match your décor and personal taste, producing a level of protection for your home that is practically invisible.
Mirage screens also use a Super Magnet closure system that is made of rare-earth and is incomparable in strength and longevity. The screen tracks along the top and bottom of the opening are deep and reduce the likeliness of mesh blowout.
With Mirage, we're so confident in the reliability of our made-in-North-America retractable screens that we offer a Limited Lifetime Warranty on all of our screen products. We have been manufacturing Mirage retractable screens since the 1990s and will be around for many years to come.
Peace of Mind from Start to Finish
Once you've made your decision on the right retractable screen brand for yourself, there is still one more thing to consider.
Who is going to install your retractable screen door or window screen? If you're a confident handyman, you might be willing to take a "do-it-yourself" approach and tackle the installation. DIY retractable screen products typically do not offer the same quality as those that are custom fitted to your opening and professionally installed by experienced retractable screen dealers.
With Mirage retractable screen door dealers, we make sure that when you buy our screen products you also get an installation that you are happy with, done by a professional screen installer who knows our Mirage screens product inside and out; someone who can customize the retractable screen for your particular door or window (or large opening) to ensure it fits properly, and provides the protection you're paying for.
Be sure to spend some time talking with the various retractable screen dealers in your area to make sure you are confident in their level of retractable screen product knowledge, and that you would be comfortable letting them into your home.
You Have the Information, You Make the Call
We encourage you to compare our retractable screen products to our competitors wherever possible. See and feel the difference that quality makes.
Contact your local Mirage retractable screens dealer and learn more about how Mirage screens can benefit your home and which screen products best fit your needs.
‍