It is that time of year when many of us are continuously opening and closing our doors to let that fresh air in to stay cool.
Retractable screen doors are a great way to let that airflow make its way through your home but how do you create a nice cross-breeze?
What is a cross-breeze or cross ventilation?
A cross-breeze or cross ventilation is when you open a window or door on both sides of your home to create a natural ventilation. The key is having the openings on either side of your home, not on the same side.
How to create the cross-breeze
Screen doors are a great way to do this without letting insects get into your home all while keeping it private.
To create this cross- breeze you could have two retractable screens on both sides of the home that would create ventilation. Another method that creates a fantastic cross-breeze in your home is a retractable screen on one side and a motorized screen on your garage door or another doorway on the other side.
‍
The best time to open your doors and windows is in the early morning and evening when the weather is cooler, this will help keep the airflow cooler. This also helps you save on utility bills.
Here is a beautiful example of how you can create a cross-breeze while still looking sleek and working with your décor.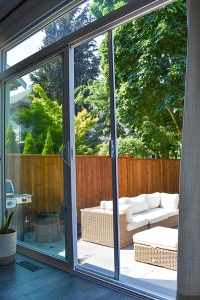 Mirage retractable screens offer both products for this. Not only do they create a nice cross-breeze, but they also keep the sun rays to a minimum which helps avoid more heat coming into your home.
Mirage screen systems can set you up with a dealer in your area that can install one or both products to make your indoor and outdoor living more enjoyable and create the cross-breeze of your dreams.
‍