Many of us this past year and a half have been working from home whereas some business owners and entrepreneurs have been used to this for much longer. When it comes to working from your home it can be great in many ways but also hard to escape household distractions. Many don't have the luxury of separate office space in their home, so their office is often a makeshift space either in a kitchen, bedroom, balcony, patio, or garage.
Recently, Mirage Screen Systems was able to help a client (Kaitlin Hargreaves), summer"ize" her office space that had already been transformed into an amazing oasis. The two-car garage was transformed into something we had never seen before. It had been insulated to stay warm in the winter and to keep it cool in the summer. The floors had epoxy coating making it easy to clean but also easy to transform back into a garage. The design element included dried and faux flowers to brighten and create a more welcoming space.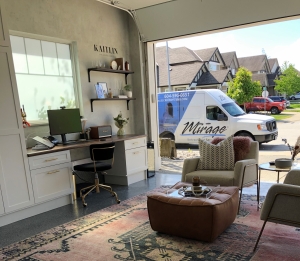 "Keeping the garage door open in the summer is very hard to do as there is no privacy from people walking by. In the summer especially, the sun rays can beam into the space and the bugs easily make their way in." – Kaitlin Hargreaves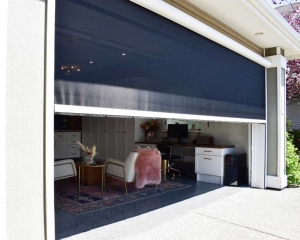 Mirage came to the rescue and installed a motorized screen door on the outside of her garage door. Mirage motorized screens are ideal for letting that fresh air in while also keeping bugs out. They are perfect for making an indoor/outdoor space feel open and private while also controlling that sun glare. Kaitlin chose a mesh called Suntex 90, that is fade resistant and blocks 90% of the suns hot rays before they enter. This is a very durable mesh that is visible from the inside out during the day but not the outside in. When its dark outside and the lights are on inside, the office space is visible.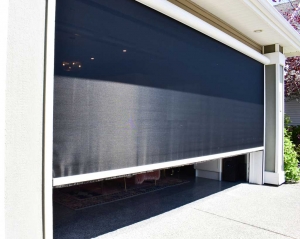 Here are some of the reasons Mirage motorized screens are so great when it comes to summer"izing" your home office.
Durability: Mirage motorized screens use quality materials- sturdy aluminum with an attractive powder-coating finish to keep it lasting for years. This means it will endure many up or down uses of the screen over the summer months.
Smooth operation: The operation is extremely smooth; at the press of the button, it quietly and effortlessly rolls up or down. There is a reason why Mirage retractable screens are called the world's smoothest retractable screens.
Sleek Style: Mirage retractable screens are designed to blend into your design and décor. They hide away nicely as you can choose from 7 different color options and a variety of mesh colors and types.
Warranty: The motors and accessories are warrantied for five years and the aluminum for life.
Safety: The motor has an auto-stop detection, when it detects an object underneath the screen like a pet or child, it automatically stops.
If you are looking to summer"ize" your home office or living space, contact Mirage Screen Systems today for a Motorized or Retractable Door near you.
‍