Knowing how to decorate your home or outdoor space can be challenging. Getting to know some of the current home trends could help you transform and organize your space to its full potential.
Here are the top 10 trends that seem to be at the forefront of 2021.
1. Versatile Luxury
This year it is more about versatility in your design. Chic but comfortable. Furniture pieces that are durable but make you feel at home. They work with your lifestyle without making you feel like you cannot touch or sit on your furniture in fear of ruining it.
2. Indoor Plants
Bring the outdoors in, with indoor plants. It brightens your space and purifies the air without brightening your color palette. Plants give life to a sterile space and can brighten your mood.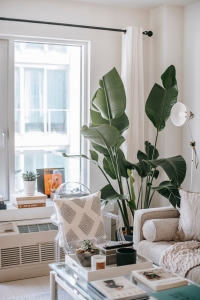 3. Dark Hues
A darker color palette has deemed to be popular as it feels more expressive and serves as a desirable backdrop for a photograph or art piece. Dark hues also give off a more luxurious feeling.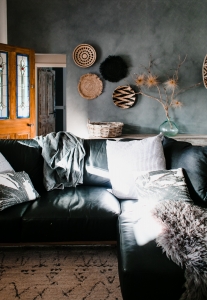 4. Let the light in
Embrace the outdoors and open your windows and let the air in. A Mirage Retractable Screen would benefit your space, by letting the air in without compromising the design of your home or letting bugs into your space. While many have been cooped up most of the year due to the pandemic, letting natural light in brings more positivity and warmth to any space.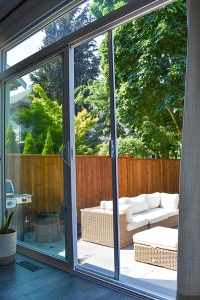 5. Durable Fabrics
When it comes to everyday use with children, pets and guests, durable fabrics are in. They are still stylish, yet durable for all of life's potential accidents.
6. Geometric Shapes
Geometric shapes are coming back in and are inspired by postmodern and 1980's and add more dynamics to space. Fun geometric candle holders, candles, and furniture pieces give more of a unique look to your home.
7. Multi-purpose spaces
We have all been staying inside a lot more the past couple of years. Multi-purpose rooms have proved to be more of a use than ever, such as extra office space in living spaces and gyms in garages etc. Mirage Screen Systems motorized screens do the trick when it comes to creating a separate space. Below are a couple of photos of a garage and a backyard that was transformed into a home office and an outdoor/indoor living space.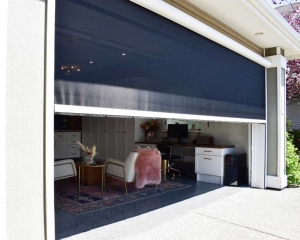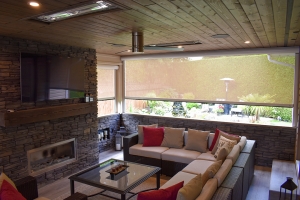 8. Earthy Palettes and Textures
It is all about the natural elements. Sticking to earthy tones, marble, wicker, and wooden furniture pieces are extremely popular. Even adding some faux fur and leather fabrics make the space feel homier.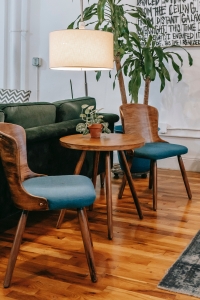 9. Decorative smart lighting
Smart lighting makes your life a little easier. Swapping regular light bulbs for energy efficient smart bulbs helps with saving energy in your home while also making your lighting system more effortless and technically advanced.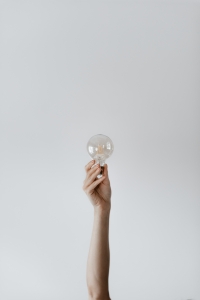 10. Grays and bright colors
Bright colors and palettes are exceedingly popular. They are contrasted with a darker color like gray. It symbolizes thoughts and ideas; many designers and brands are embracing the language of color to accentuate a room.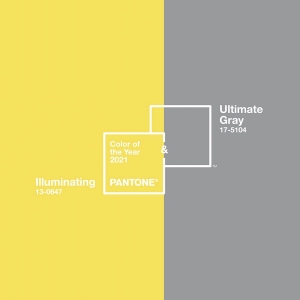 Not all these trends may fit your style, but we hope that some of them will be beneficial to you to help you revitalize your home.
‍