7 Guidelines for Retractable Screen Maintenance & Care
At Mirage Screen Systems, we often get asked what is required for the care and maintenance of a Mirage retractable screen door or retractable window screen. Screen care and maintenance is a question that's especially pertinent when the season changes to cooler months and homeowners are beginning to pack up and store away their patio and outdoor furnishings. Fortunately, your Mirage retractable screen door or window screen does not need to be removed for winter storage. The screen simply retracts into its housing when it is not in use.
This unique feature will not only keep the retractable screen from being damaged from the elements but it will also keep it clean. To help protect your investment and provide for your long-term enjoyment of your Mirage retractable screen, our screen experts recommend the following screen care and maintenance tips:
1. Keep the bottom track of your retractable screen door free of debris, rocks and pet hair.
A clean track allows the retractable screen to glide smoothly back into its housing.
2. Place a visibility decal on the screen at eye height.
Mirage retractable screens are designed to allow maximum view while allowing maximum airflow into your living space. You can reduce the chances of accidentally walking into your screen by using visibility decals. The decals can then be removed once your family is used to having and using the retractable screens.
3. Train your pets to respect the screen as with any other household fixture.
A second visibility decal can be placed at the eye level of your pet until your pet becomes used to the screen, then the decal can be removed.
4. Keep your screen retracted into the housing when it is not being used.
This is one of the key benefits of a retractable window screen or screen door! With the screen out of the way when not in use it will be protected from the elements and will remain clean.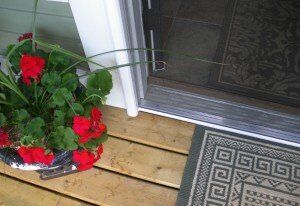 5. Clean the screen's housing, mesh, and tracks with warm soapy water, once a year.
Once cleaned, dry with a soft clean cloth. This simple screen maintenance will keep your retractable screen looking and performing its best.
6. Annually lubricate the screen tracks with a quality silicone spray lubricant.
It's a good idea to do this right after the annual cleaning. If your Mirage retractable screen is installed in a high traffic area or a very dusty area, you may wish to clean and lubricate your screen tracks more often.
7. In windy conditions, keep your screen retracted into its housing to avoid possible damage.
Mirage retractable screens work well in a moderate breeze but heavy gusts of wind could potentially blow the mesh out of the tracks causing undue wear and tear on the mesh fabric. Keeping your screen retracted in such conditions is highly recommended. Mirage retractable screens are high-quality window and door screen systems designed and tested for many years of use. Following these simple screen care and maintenance tips will help to ensure that your retractable screens operate optimally so that you can enjoy the benefits of increased fresh air in your home without troublesome flying insects. Contact your local Mirage retractable screens dealer for more information on retractable window and door screen care and maintenance!
‍