Get more out of the spring and summer months on your patio with a screen enclosed area using Mirage's Horizon Series for large openings! Entertain friends, host family get-togethers, or just sit back and relax without the sun, rain, wind or bugs stopping you from enjoying the outdoors! Increase your homes beauty and value with a stylish, contemporary, custom-built retractable screen from Mirage. Two main ways patios are used are often as an entertaining space when having friends over or as an outdoor living area where you can enjoy coffee in the mornings, eat meals, and spend casual time together. Make your focus creating a space that is comfortable for lounging and has room for entertaining. Mirage Horizon screens can be recessed into columns and archways for a hidden installation, allowing you to enjoy the outdoors while still controlling conditions like the amount of sunlight, airflow, and temperature without insects or other pests. Simply retract the screens when you don't need them! Mirage offers 4 different models of large retractable screens for patios and other covered spaces suitable for almost any application. Each of these products are available with a motor option for opening and closing the screen with ease.
A Few Ideas to Enhance Your Patio Party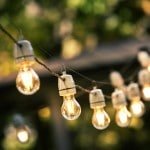 When planning a party, what comes to mind? Mostly, you prepare for music, food, beverages and your guest list. However, first and foremost you have to decide where the party will take place. Wondering where you can hold your next party? An outdoor area or patio is perfect for hosting any event – whether a formal gathering, a small personalized party or just a get together with a few friends on a summer evening. Your patio connects you to the outside and at the same time, giving you ready access to your home. Now that you are all set to enjoy the benefits of Mirage's Horizon large opening retractable screens, let the party planning begin!
Comfortable seating, and lots of it Cover your chairs, sofas, and benches with cushions and pillows for seating that is extra comfortable. Throw a few pillows on the grass, set up chairs in clusters, and make sure there is plenty of seating available for guests to move around and mingle.
Throws and blankets Keep your guests cozy all night long by having throws and blankets available for use when the sun goes down.
Set up multiple tables Encourage conversation and mingling by setting up multiple tables. This will give you extra room for food and drinks, while allowing your guests socialize.
Use rolling carts Display food and drinks on multiple carts that can be moved around. Bar carts and rolling carts are easy options to avoid groups of people crowding around one area.
** Give an old TV cart a makeover and turn it into a bar cart. Tuck the bar cart right inside the porch, next to the entry to the house, so it's easy for guests to access when they walk from the house onto the porch. Use this as a mini-bar when entertaining!
Create a theme for your decorations Choose a theme for your outdoor party to make decorating easier. Setting a theme will help you mix and match the right décor items.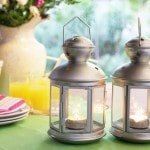 Mix in fresh flowers Flowers are an easy way to decorate a party. Fill your patio or deck with fresh flowers. Hang them in pots, display them in vases, or float them in water.
String lights Light up your patio and backyard with decorative string lights. Wrap them around railings or hang them along the side of your roof to add a twinkle to the night.
Use battery-operated candles Avoid fire and flames entirely by using battery-operated candles for soft lighting and a calming outdoor atmosphere.
Make a playlist of your favorite music Maintain the mood of your backyard party by playing a mix of your favorite songs through a speaker.
To learn more about Mirage's many different options or find a dealer near you, please visit miragescreensystems.com.
‍