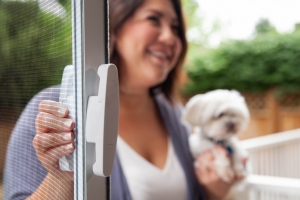 Are you thinking about purchasing a retractable screen door but are worried your cat or dog may ruin it? You're not alone.
Pets can get the best of any piece of furniture or doors; they can scratch and claw at just about anything.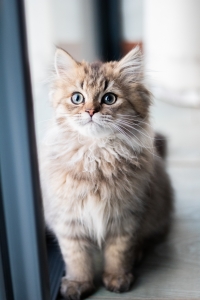 Retractable screens are an investment in your home, so you want to know that it will withstand your daily lifestyle and furry family members.
Mirage Screen Systems offers a choice of mesh called TuffScreen, which is also known as pet mesh. The mesh is made by Phifer and is a heavy-duty mesh that is made from vinyl-coated polyester, which makes it tear and puncture resistant.
There could be the chance of a pet being stronger than the mesh but overall you can feel ease of owning a retractable screen door with your pets around.
If you had a hesitancy about purchasing a retractable screen door due to pets in your household, you now know that there is an option.
The stronger mesh also helps withstand general every day use.
Mirage has a variety of mesh options that can help with your home's needs. Whether it is pets you are worried about or small pesky bugs that make their way into your space, Mirage has options for you.
We always want to note that retractable screens are not designed to keep pets or children inside your home.
‍