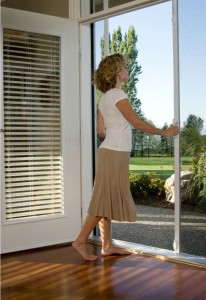 Open your home to the fresh outside air!
In a world where life has become so busy that most of us don't have much time to just get away and relax, it becomes more and more important to make your home a place of calm and relaxation.
Many of us are constantly searching for ways to create a space of welcome, a space of health and serenity; a place where we can come home to and just unwind for those few precious moments of nothingness.
One thing that many of us overlook in this pursuit is the quality of life that can be found right on the other side of your entry or patio door. Fresh Air!
With the first days of spring's warm weather there is nothing more refreshing to a home than opened windows and doors that let the fresh air flow through your home.
Bringing the outside air inside instantly brings a feeling of nature and peace to the rooms that have been closed up for winter. When the sun and fresh air flow through your living space, instant feelings of happiness abound and your energy rises. There is nothing quite like it.
So, how can you take full advantage of spring and summer's warm air and sunshine?
How can you let as much of that outdoor experience into your home so that you can enjoy it to its full benefit?
First, let us look at the two main problem areas when it comes to what seems like a simple task of opening a door or window:
Flying insects
Ugly meta screens that may also block your view
Whether it is the light or the warmer air, flying insects want into your home and you do not want to spend your time unwinding with a fly swatter in hand. The solution to this problem is installing retractable screen doors or retractable window screens.
However, this leads us to the second main problem.
When you have a beautiful entry door or patio doors, the last thing you want is to put some unattractive metal screen door in front of it, especially one that is always there and will block your view.
You also probably don't want to have to open and close two doors year around, while your hands are full of all that stuff that makes life so busy.
Many homeowners have found the perfect solution to this second problem and are overjoyed with their Mirage Screens System!
Mirage retractable screens feature a screen mesh that is rolled into a compact metal housing when not in use. When needed, the retractable screen simply extends across your doorway (via a narrow pull bar) and magnetically attaches to the opposite side of your door.
The retractable screen mesh is guided across the door opening through a track at the top and bottom of your doorway. When the screen is extended across your door opening it is nearly invisible letting in the maximum amount of air and light, increasing your view of the outdoors from inside, and all the while keeping the bugs out.
When the screen is retracted into its housing (which is color coordinated with your home's décor) it is hardly noticeable and you don't have to open and close it year round – it simply stays stored in its housing in the off-season and during bad weather days!
Mirage retractable screens may seem like a simple device but they are built to last through years of use.
There are many other screen companies out there with very simple retractable screens but they just don't compare and won't hold up over time to our Mirage Screens System.
All Mirage retractable screens are North American made and professionally installed.
Mirage Screens was one of North America's pioneering retractable screen manufacturers and because of this, immense research, engineering, testing, and improvements have gone into our Mirage screen products for many years. You just can't knock experience and Mirage consistently comes out on top over our competitors.
But don't just take our word for it.
The following testimonials are from Mirage retractable screen owners who wanted to say something about their Mirage screens experience:
"I have owned a Mirage Retractable Screen for 5 years. I love it! I actually tried another brand and was not happy with it. (After 2 years, it needs to be replaced because you have to cautiously feed it in to get it to move.) The Mirage Retractable Screen just operates without a problem. I have ordered two more Mirage Retractable Screens for my new home." ~ Interior Designer, La Jolla, California
We love our new screen door and the nice gentle breeze we will now have. ~ The Villages, FL
The best I have seen so we bought two for the front doors and one for the back and threw away the 'other' ones we had. ~ Penhold, AB
We just love it. Now we will be able to get a cross breeze, which we always wanted but did not want a conventional screen door as it would spoil the look of our stain glass door. With the Mirage screen we have the best of both worlds. ~Windsor, ON
Love it! I had a new front door installed but did not replace the screen door. I really missed the airflow and the natural lighting. It only took 40 minutes to install and has made such a difference. Just love it! ~ Aurora, ON
Mirage Retractable Screens are so much better than regular screens in appearance and usage and our dealer has great customer service. ~ Surrey, BC
When I moved into a fairly new construction in Chicago's Gold Coast area, I did not think it was possible to have my two terrace doors screened—the building did not allow alterations to the overall uniform look on the outside. Then I heard of Mirage Retractable Screens and…voilà, they proved me wrong! After a flawless installation, I now, on many beautiful days, can enjoy the fresh air through my wide-open French doors, without the invasion of pesky critters. ~ Chicago, IL
Find out how you can bring the fresh air into your home with Mirage retractable screens!
Search for a local Mirage Screen Dealer in your area to learn more of the benefits of our retractable screen door and retractable window screen systems and see our products in use.
Mirage Screens has qualified screen dealers throughout all of Canada and the USA to assist you.
‍